Last updated December 6th, 2023 06:25
Elementor is becoming an increasingly popular website editor built on the WordPress content management system. Elementor, both in its PRO and free version, contains various features that are not, or minimally, visible at first glance. In the following series of tips and tricks for Elementor #1, I would like to take a closer look at some of them and show them through examples in a series format. Let's get started.
Tips and tricks for Elementor #1
1.) Elementor Finder
If you are logged in to your WordPress administration and browsing your website using Elementor, you may come across a feature called "Elementor Finder". This feature allows you to search for any created page or post on your website and immediately edit it from anywhere on the website. The Elementor Finder feature is triggered by the keyboard shortcut CTRL + E. Subsequently, a search bar window appears, where you can directly search for existing posts by typing. When you click on a post, you will immediately be directed to its editing page.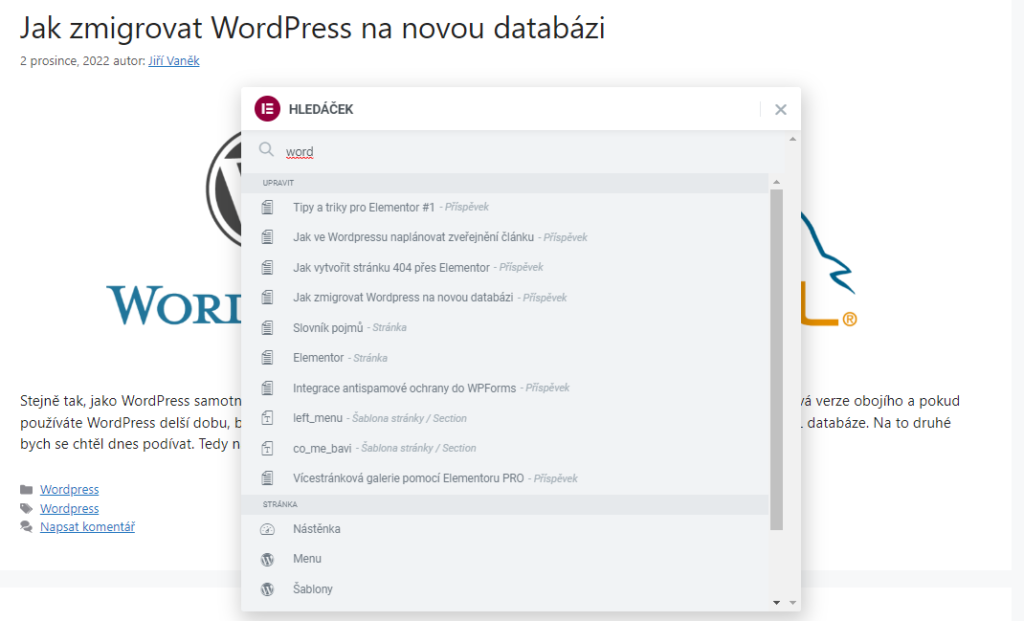 2.) How to insert another subsection into the main section
If you insert an inner section into the main section in Elementor, you will divide the main section into two smaller sections. However, you cannot divide these two sections in the same way, so ultimately, you can only divide the main section in half. But there is a way to work around this:
Insert an inner section into the main section
Right-click on "Edit Column" in the main section and choose "Copy"
Right-click on "Edit Column" in the inner section and choose "Paste"
Remove any excess sections again using the right-click button.
3.) Vertical Divider
The vertical divider in Elementor looks like this by default:
How to create a vertical divider? Add a divider to the text of the article from the Elementor left-hand menu and click on the center alignment. Then click on the "Advanced" button and choose "Transform". In the transformation settings, select "Rotation" and rotate the divider by 90 degrees. You can then adjust the size or length of the divider using the "Content" and "Width" buttons. On the other hand, the thickness is set via the "CSS" and "Weight" buttons. Using the "CSS" and "Spacing" settings, you can also define the size of the section for the divider. The result may look something like this:
4.) How to replace URLs with Elementor – redirection
Elementor includes a tool that allows you to replace URLs. This means taking an old URL that, for some reason, no longer exists and using Elementor to redirect this address to a new one that will replace the old one. To replace a URL with Elementor, follow these steps:
Click on Elementor in the left administration menu.
Select "Tools" in its menu.
On the following screen, choose "Replace URL".
Define the old and new URL and save the redirection.
This feature should be available only in the PRO version.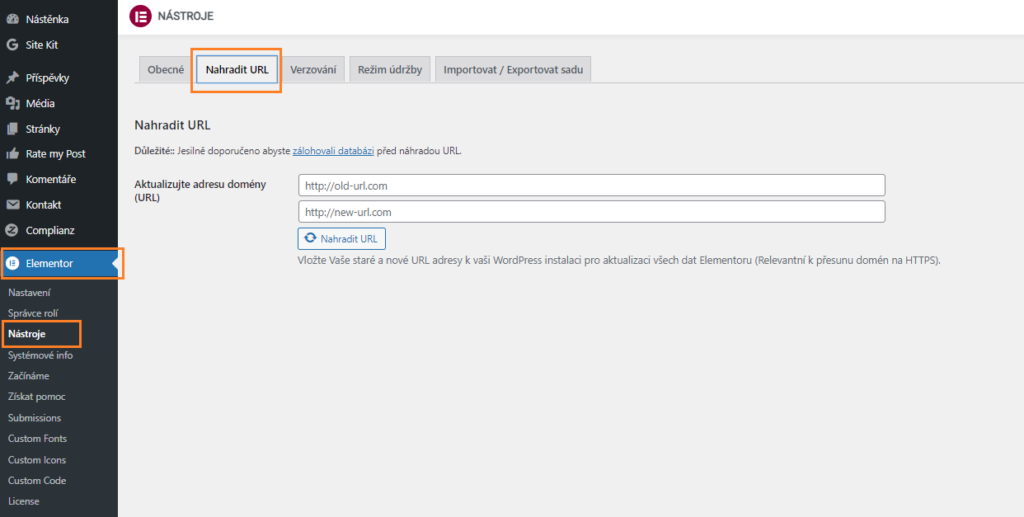 5.) How to revert back to the original version of Elementor after an update
Sometimes, after updating Elementor on your website, something might go wrong and it may be necessary to revert to the original stable version. For these purposes, Elementor has a built-in tool for versioning. It is available again in the left-hand administration menu under Elementor -> Tools. Then select the "Versioning" tab here.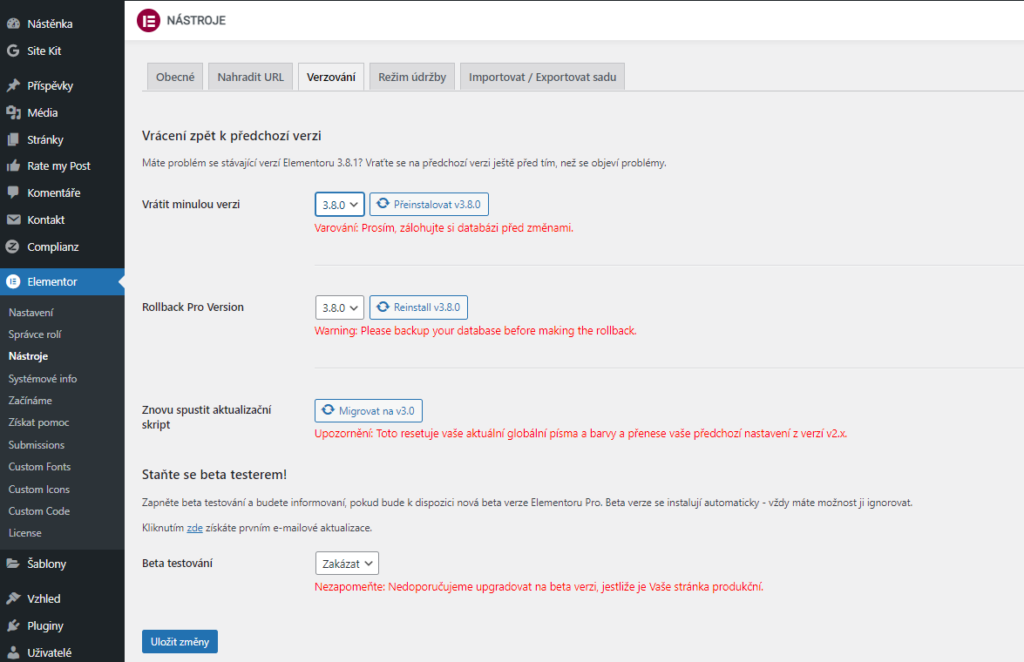 More articles about Elementor
Whole category is here.
The website is created with care for the included information. I strive to provide high-quality and useful content that helps or inspires others. If you are satisfied with my work and would like to support me, you can do so through simple options.
Je mi líto, že pro Vás nebyl článek užitečný.
Jak mohu vylepšit článek?
Řekněte mi, jak jej mohu zlepšit.