Surely this situation has already happened to you. You own a blog or web with regular content, and you need to post written content the moment you're unable to be on your computer. WordPress includes a feature for these situations where you can set the exact date of publication for an article. So if you're going away for a week's vacation, you have the opportunity to write your regular content ahead of time, and WordPress will then take care of publishing that content itself at the right time. So take a look, how to schedule the publication of an article in WordPress.
How to schedule the publication of an article in WordPress
This article will be relatively short and simple. It is not difficult, or time-consuming, to plan the publication of an article. So let's start with the content. Start writting a new article on your site, but at the end of writing always save this article as a concept. So the content will not be public. In the classic WordPress editor, the save button for concept is clearly visible, but in Elementor it is hidden in the publication button. You must click the arrow in the button as you can see on image bellow and then choose the option to save the concept here.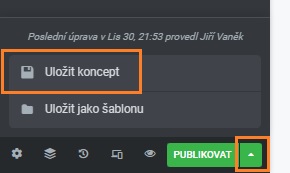 Setting a date for publication
Once the article is finished and stored as a concept, return from Elementor to the wordpress article settings. If you don't do the web in Elementor, you can of course skip this step. Then, under the article publication button, in the settings panel, move the mouse to "Publish" where "Immediately" is set by default. So click on the caption "Immediately" here, and from the scrolling calendar, select the day and time you want to publish the article.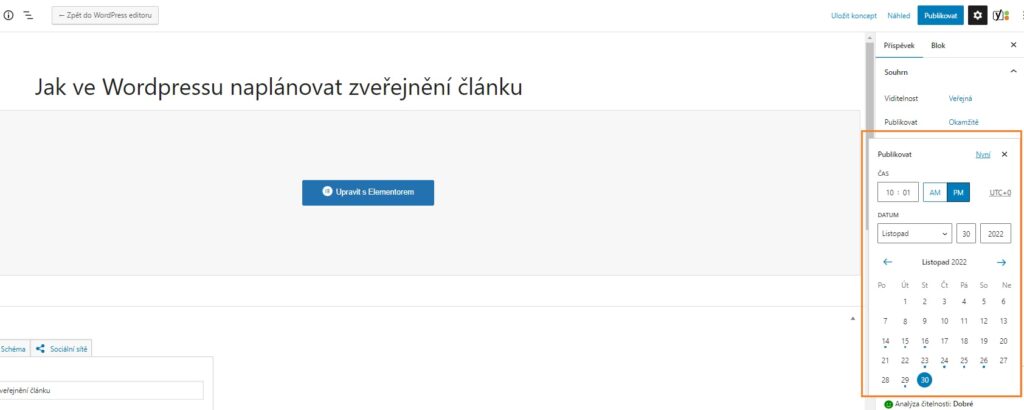 Once you have selected the time and hour which you want to publish the article, just press the "Publish" button. The article will set to your time and date, and will publishes itself on the day and hour you have set on calendar.
Je mi líto, že pro Vás nebyl článek užitečný.
Jak mohu vylepšit článek?
Řekněte mi, jak jej mohu zlepšit.