If you own a website, one of the most basic things you should always keep in mind is backing up your website content. Website content usually consists of two parts. Data stored on FTP (usually images, PHP or ASP scripts, CSS, etc.) are one of them. And data stored in the database (article and page content, system settings, users and their passwords, etc.) are second. Let's take a look at how to backup a MySQL database using the phpMyAdmin tool.
This tool is commonly available across virtually all web hosting providers. And backing up the database really doesn't take much time. On the other hand, performing a backup in a timely manner can save anyone not only a lot of time, but often a lot of money as well.
How to backup a MySQL database using phpMyAdmin tool
First of all, you will need two important pieces of information from your web hosting provider. The first one is the URL address of the database management interface (phpMyAdmin), and the second one is the login credentials for the database (username, password, server name).
To backup a MySQL database:
Go to the web interface provided by your web hosting provider and login to your MySQL database using the login credentials.
In the top menu, click on "Databases" and then select your database.
Click on the "Export" tab on the top menu.
Leave the default options as "Quick" and "SQL" format and click on "Go".
Now your backup will be created, which you should save in a secure location for future use (e.g. your computer, Google Drive, OneDrive, etc.).
How to backup a database so that the file is compressed and the resulting backup takes up less space?
The process is identical to the first option described above. However, if you want the resulting file to be compressed, the process differs starting from step 4. Instead of selecting "Fast", you will choose "Custom". First, select all the tables in the database that you want to backup, and then in the compression field, you can choose the method that will be used to compress the resulting backup. The resulting backup file will be significantly smaller and take up less space on your storage.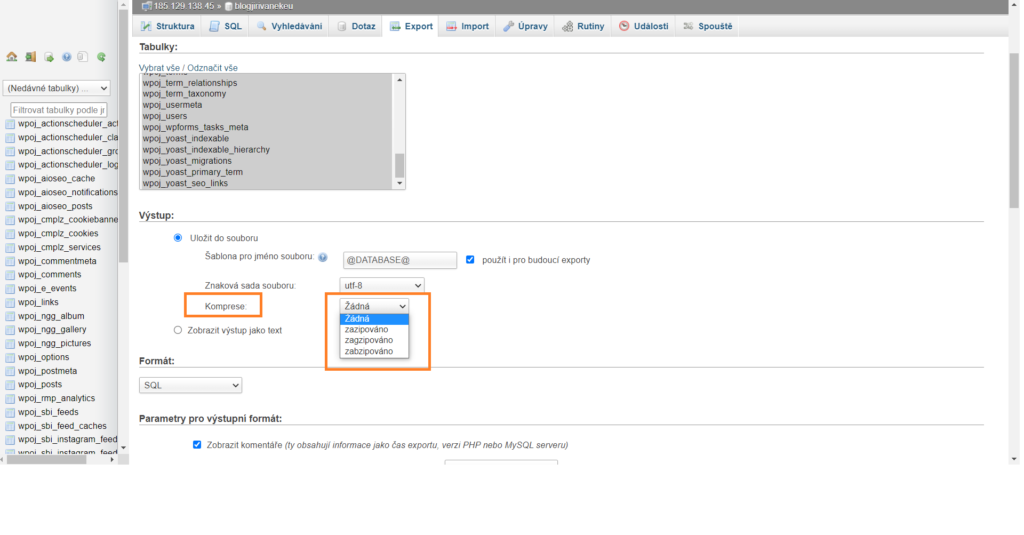 Je mi líto, že pro Vás nebyl článek užitečný.
Jak mohu vylepšit článek?
Řekněte mi, jak jej mohu zlepšit.