If you are creating a website using WordPress or any other content management system, contacts are a very important part of it. Contacts are usually placed in the top menu or footer of the website, or both positions can be used. The contact section typically includes an email address that users of your website can send messages to. If you don't use a contact form on your website, it is desirable for the email to be clickable. Today, we'll take a look at how to create a clickable email in WordPress.
Why is it better to use clickable email in WordPress rather than plain text?
You can add an email address in its classic textual form, meaning that the email will only be displayed as text information for your users. While this is simple, such a format can be impractical for website users. Let me explain why and what the difference is.
If you place an email address on the web in plain text form, this means the following for users. They must copy the email address and then paste it into an email client. If the email is clickable, all they need to do is click on the address and the email client will open automatically on the device. Your email address will already be filled in for them.
Copying an email on a desktop computer may not be a problem for a website visitor. However, on a mobile device, this can be a significant help since copying content can be much more difficult on mobile devices.
Email as URL
To enable users to click on an email address, a very similar format is used to that of a URL link. You write the email address as a link, using the special attribute "mailto:". This allows the email address to be clickable.
The format for a clickable email address may look like this:

				
					mailto: vanek@jirivanek.eu
				
			
If a user clicks on such a link, it triggers an action to open the email client, which automatically inserts the address from the link. The user only needs to fill in the subject and content of the message. This saves them time, as otherwise they would have to copy the message, then find the email program in their mobile menu, and only then could they paste in the copied address after composing a new email.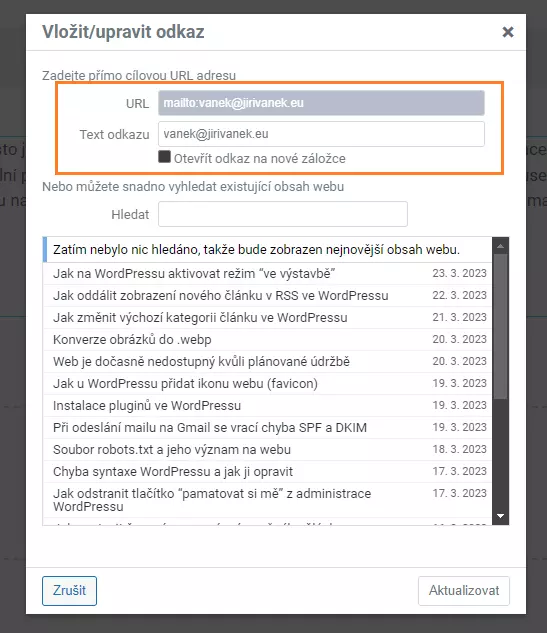 Using clickable email in WordPress mMakes emailing more enjoyable
In conclusion, making email sending a one-click process for users can increase the likelihood of communication with your audience. Every step that makes someone's work easier leads to an increased chance of interaction between the user and the website owner. If your website is to be even slightly user-friendly, clickable email in WordPress is truly essential.
More content about WordPress for beginners
Whole category is here
Je mi líto, že pro Vás nebyl článek užitečný.
Jak mohu vylepšit článek?
Řekněte mi, jak jej mohu zlepšit.