According to the official newsletter from prestashop.com, phishing attacks are currently targeting owners of PrestaShop websites. Specifically those built on their CMS. The phishing sites attempt to mimic their main website.  Also it is likely that attackers will attempt to obtain sensitive information from the owners of these sites. If you have an online store built on PrestaShop's CMS, it is important to be vigilant, particularly with regards to any received emails that appear to be from their official website. Always verify the sender's address and carefully inspect any potential links before clicking on them.
What is PrestaShop?
PrestaShop is an open-source e-commerce platform that allows users to easily create and manage their own online store. This platform is developed in the PHP programming language and uses a relational MySQL database for data storage.

PrestaShop offers users a range of features, such as product management, category and customer account management, the ability to set up payment and shipping methods, create discount codes, and much more. Users can also use various modules and extensions to customize their store according to their needs.

PrestaShop is also a very flexible platform that supports many different languages and currencies, allowing users to create online stores for a global audience. Thanks to its open-source nature and extensive community of developers, PrestaShop is constantly updated and improved.

Using PrestaShop is very intuitive and easy, which allows users without technical knowledge to create a professional-looking online store. Additionally, thanks to the large number of available templates and modules, PrestaShop can be easily customized to meet the needs of every user
Phishing Attacks Targeting Owners of PrestaShop Websites
Dear PrestaShop users,
We have been informed that a phishing campaign was targeting PrestaShop users, through emails usurping our corporate identity. We'd like to remind you to be vigilant about online scams that can be perpetuated through fraudulent emails or messages claiming to be sent by PrestaShop.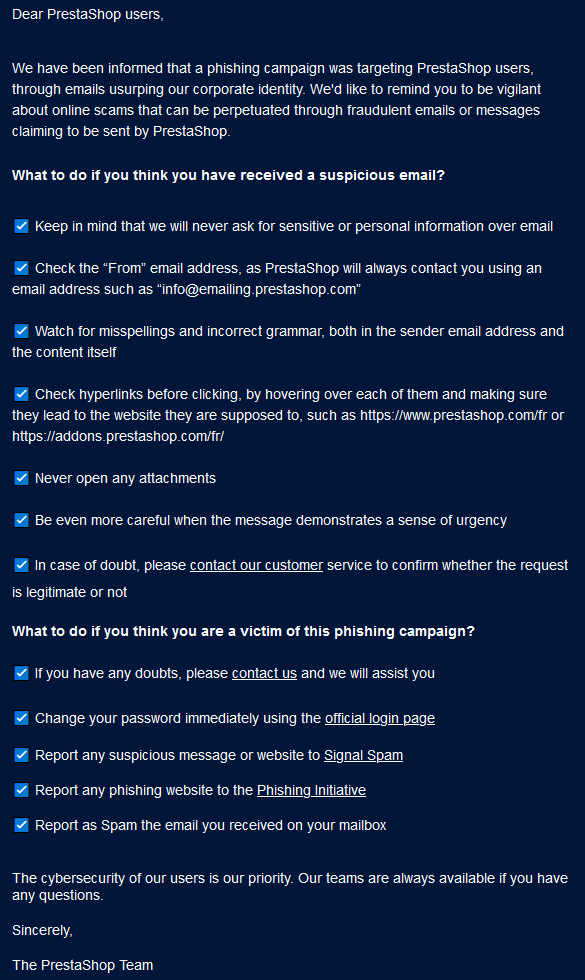 Je mi líto, že pro Vás nebyl článek užitečný.
Jak mohu vylepšit článek?
Řekněte mi, jak jej mohu zlepšit.