Elementor
has a great tool for invoking an action by a web visitor. It's called Pop Up windows. For example, do you need a visitor to subscribe to the newsletter, or do you want to alert them to a discount coupon? So lets take a look how to open Pop Up windows in Elementor by URL link.
That's exactly what Pop Up windows are for. A visitor of website make some action which is defined by you, and his action will open a pop-up window through the page, offering him to register for the newsletter, or shows him a discount coupon, which he can use for cheaper price in your e-shop.
Triggers or URL for opening pop-up? You can use both.
Different triggers can be defined for pop-ups. The visitor is on the site for a while, moves the page to a predefined location or some predefined number of URL links are clicked by him …
But what if we don't want any of this, but instead would like to call up the window only when the user clicks a button or a link?
Yes, it's possible and even, it's not complicated at all. One example is my button on the site to call a contact form.
Create a Pop Up Window
Pop Up windows and their creation or management are available in the left menu under Templates -> Popups. Click on "Create New" here and use the classic Elementor editor to create the design of your new pop-up window.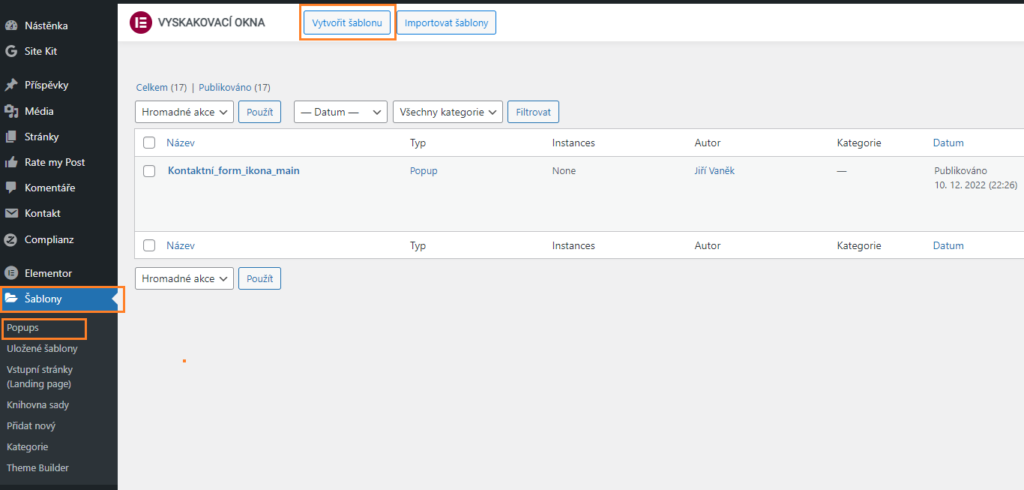 How to open Pop Up windows in Elementor by URL link

Pop Up window you already have created, and let's place it. So open the page or post where the Pop Up window should be inserted. We'll show this on the embedded icon example bellow.
insert an icon on the page and place it in a predetermined place (the same can be done, for example, with a button, or URL link)
click on the icon link for dynamic tags and select a popup
click on the spanner icon at the link
The "Action" box defines what happens when clicked by the user. So it opens a Pop Up window
the empty "All" field is used to write the name Pop Up in the window, which elementor himself will start searching for
select one of your previously created pop up windows
Now you have everything done. Clicking on the selected element, icon, button or link will trigger your Pop Up window. Whether there will be a coupon, newsletter, or whatever else is then up to you.
More articles about Elementor
Whole category is here.
Je mi líto, že pro Vás nebyl článek užitečný.
Jak mohu vylepšit článek?
Řekněte mi, jak jej mohu zlepšit.