If you are forced to change the domain for which WordPress was installed, it may happen that after renaming the website, there is a problem with the pretty URLs. When you click on any link in the menu, you will only receive a server error message, usually a 404 error. The solution, which usually works immediately and is very simple, involves regenerating the pretty URL addresses through the WordPress administration. Let's see how you can fix the broken links after WordPress is renamed.
Broken links after WordPress is renamed
What are pretty URLs?
Pretty URLs in WordPress are user-friendly links that are easy to read and remember. They use descriptive words that accurately reflect the content of the page. Unlike default WordPress links, which use query parameters and numbers, pretty URLs make it easier for users and search engines to understand the structure of your website. By using pretty URLs, you can also improve the user experience and increase the chances of your content being shared. To enable pretty URLs, simply go to the Permalink Settings in your WordPress dashboard and choose a structure that works best for your website.
If this problem occurs, where URLs such as in the menu are not working, the administration is available in the vast majority of cases. It is available at the address yourdomain.tld/wp-admin or yourdomain.tld/wp-login.php. So log in to the administration and go straight to the "Settings" item in the left menu. Here, select the "Permalinks" section from the list.
You can regenerate the URL by first selecting "Plain" in the list of pretty URL formats and saving the settings. Then, immediately afterwards, select the original URL format from the list and save the settings again.
By temporarily changing the URL format, which you then immediately return, the URLs of WordPress will be regenerated and links in menus or categories will be functional again.
Definitely give it a try.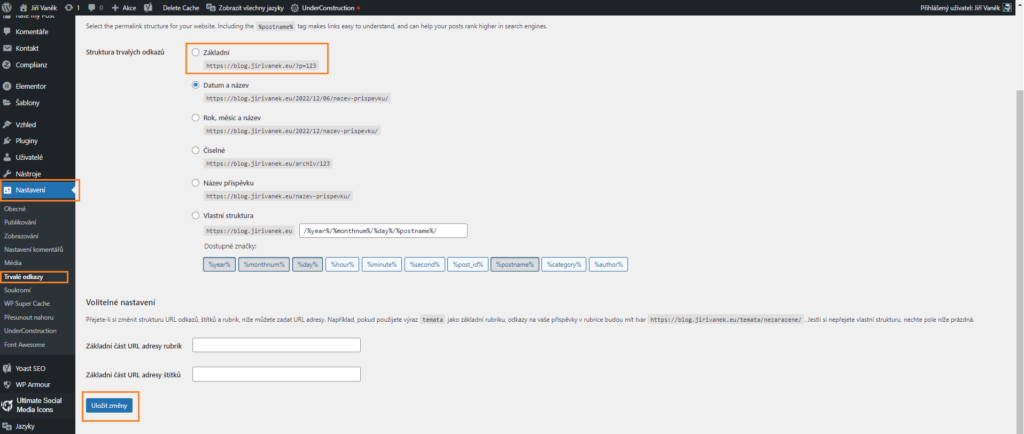 More content about WordPress
Whole category is here
Je mi líto, že pro Vás nebyl článek užitečný.
Jak mohu vylepšit článek?
Řekněte mi, jak jej mohu zlepšit.