Drop caps are large capital letters used at the beginning of words in text, usually at the beginning of chapters, paragraphs, or titles. They are abbreviations or symbols that help readers navigate the text and easily find the desired section. Today, we'll look at how to enable drop caps in Elementor, so you always have the first letter of the paragraph capitalized.
How to enable drop caps in Elementor?
Drop caps are an important part of typography and graphic design. They are used in books, newspapers, magazines, and other printed materials. Drop caps make text visually more appealing and readable. Drop caps can be very diverse – they can be decorated, handwritten, painted, or printed.
In the past, drop caps were handwritten and decorated with illustrations. Nowadays, they are mostly printed using computers and graphic design programs, but there are still artists who specialize in hand-drawn drop caps and create beautiful book illustrations.
Drop caps are also used as part of the logos of companies or organizations. For example, the logo of IBM uses the drop cap "I", the logo of Volkswagen uses the drop cap "V", and the logo of Google uses the drop cap "G".
That's a brief overview of what drop caps are and some of their uses.
Elementor and the text widget
Elementor includes a drop caps feature in the text widget, and enabling it is really simple. You can activate drop caps in the text widget on the content tab, where there is a specific option: "Turn drop caps on/off". By turning on this feature, the first letter of the paragraph will increase in size, and you can then customize its behavior (which I will explain below).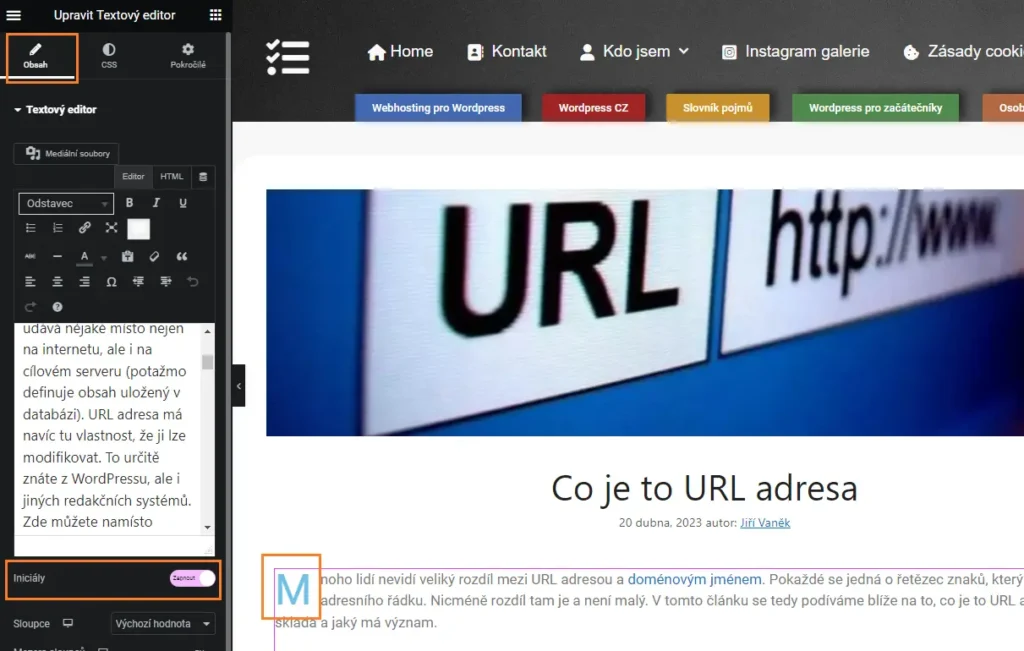 How to customize the appearance of drop caps?
To customize the appearance of drop caps according to your desired parameters, navigate to the "CSS" tab in the text widget. On this tab, you can modify many drop caps parameters, such as:
font color
size
font type
space after the drop cap
shadow
and many others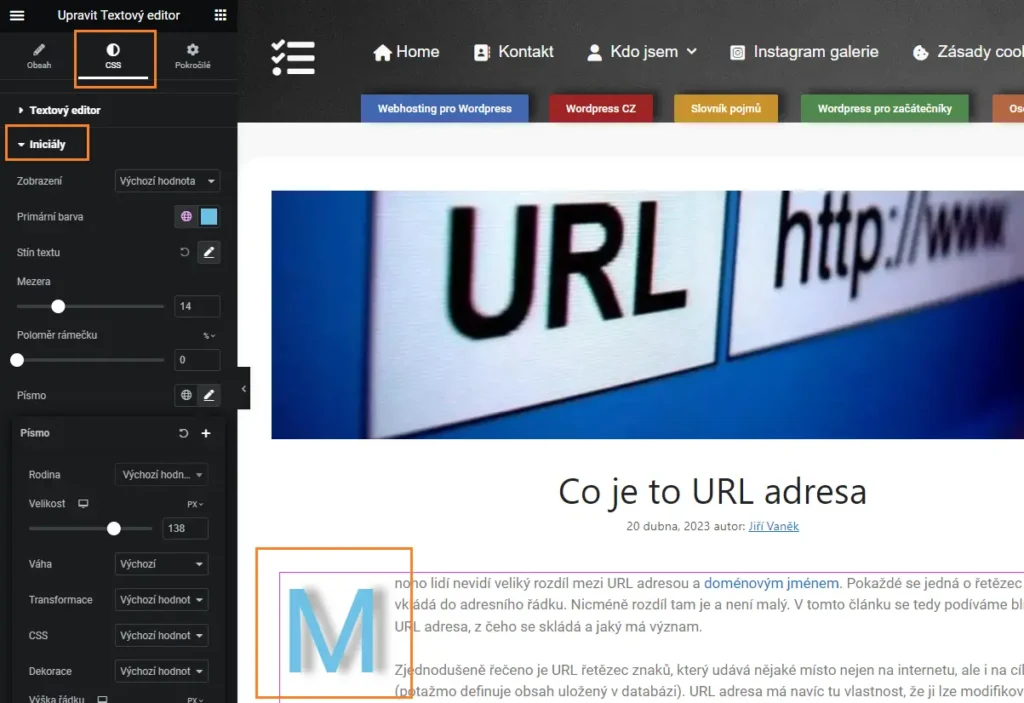 How to enable drop caps in Elementor. Conclusion
Drop caps in text can look good or bad, depending on the perspective of the website owner and the sensitivity with which they are implemented into the text. For a certain type of website, drop caps can be an interesting graphic enhancement, while in other cases they may not look appropriate. However, if you decide to enable this feature, as you can see, it is not difficult at all. You just need one button and a bit of taste to fine-tune it.
More articles about Elementor
Whole category is here.
Je mi líto, že pro Vás nebyl článek užitečný.
Jak mohu vylepšit článek?
Řekněte mi, jak jej mohu zlepšit.