When updating the core of WordPress or its plugins or theme, an informational message appears on the website. WordPress uses this message to prevent users from accessing the website during the update process, as this could lead to unwanted actions that could negatively affect the result of the update. However, if you use shared hosting and exceed the limits set on the server, this message may remain "hanging" on the website continuously. Therefore, in this article, we will look at how to remove the message "Briefly Unavailable for Scheduled Maintenance" from the website.

Briefly unavailable for scheduled maintenance – file .maintenance
The solution to the problem is paradoxically very simple. All you need to do is to access the FTP. The information and its "stuck" display on the website is caused by a file called .maintenance, which is created in the root directory of WordPress. The whole point of making the information disappear from the website is to remove the file from FTP.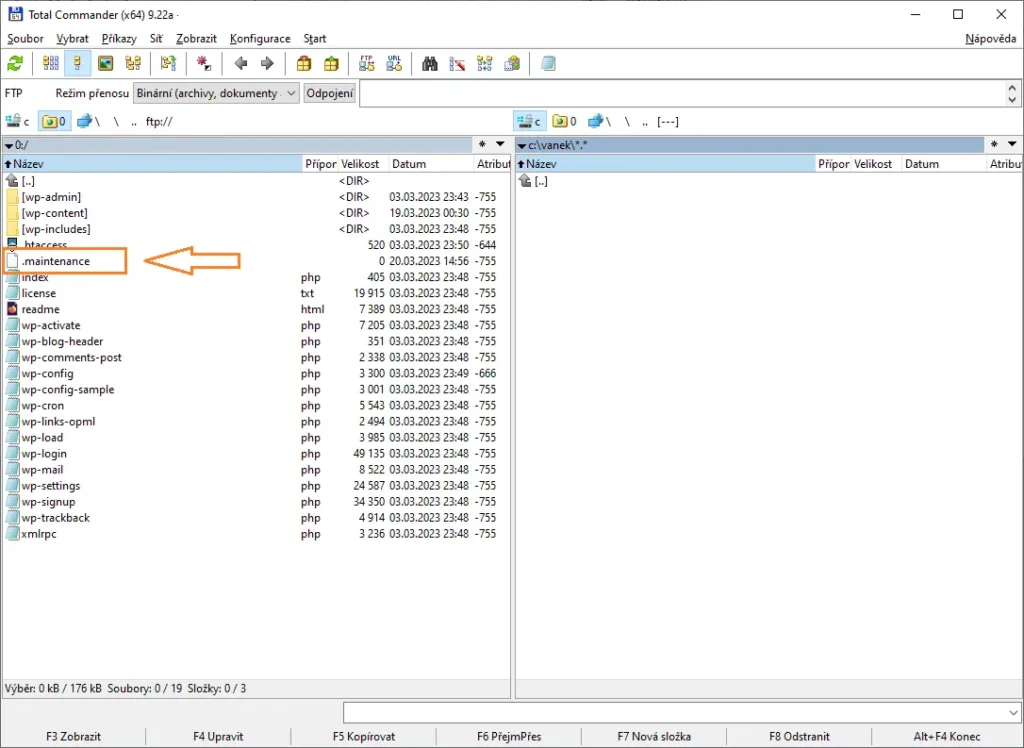 To resolve the issue, paradoxically, is very simple. First, all you need is access to FTP. Once you have that, the cause of this message being stuck on the website is a file called .maintenance, which is created in the root directory of WordPress. The key to removing the message from the website is to delete the file from the FTP.
To do this, use any FTP client to log in and open the root folder where WordPress is installed. This is usually the www folder, but the FTP file system may vary. In the root directory, you should see the standard WordPress files as well as the .maintenance file. Delete this file. Once the file is removed from the FTP space, the website will return to normal operation.
Beware of files with a dot before the name.
These files are hidden because their name starts with a dot. This is an indicator for the Linux system that the file should not be displayed in a regular directory listing. Therefore, if you do not see the file, you will need to enable the display of hidden files in your FTP client.
Conclusion
Once you remove the file from FTP, it is highly recommended to test the entire website. It is possible that some part of the system update did not run correctly when one of the server limits was exceeded. As I have noted many time before, it is good to always check the status of WordPress, plugins, and themes. Of course, always depending on what you updated. Also, check if the message "Briefly unavailable for scheduled maintenance" has really disappeared. The best way to do this is to use a different browser or anonymous mode. I also recommend deleting any cache plugin files if you use one.
More content about WordPress for beginners
Whole category is here
Je mi líto, že pro Vás nebyl článek užitečný.
Jak mohu vylepšit článek?
Řekněte mi, jak jej mohu zlepšit.