If you're a WordPress website owner, you probably already know that plugins are a key element in customizing and extending the functionality of your site. WordPress offers a huge repository (directory) of plugins where you can find various types of extensions that you can use to enhance your website. In this article, we'll take a look at how to use the WordPress plugin repository.
WordPress Plugin Repository: Searching and Installing Extensions for Your Website
The plugin repository is a web page that you can find on the official WordPress website (https://wordpress.org). Here you can find a huge number of plugins that you can use for your website. These plugins can be free or paid, and are usually created by independent developers, i.e. third parties. The main categories of plugins include:
Security (firewall, GEOIP blocking, comment spam filters…)
Mail sending (contact forms, newsletters…)
SEO – website optimization for search engines
Website customization (page builders, galleries, menu management…)
Social media plugins (sharing articles, embedding social media content on websites…)
Statistics and web analytics
Website backup
E-commerce (tools for building e-commerce websites)
Others
How to Find Plugins in the Repository?
Finding plugins in the official WordPress repository is very easy. Simply click on the "Plugins" section in the left menu of the administration panel. Here you will find various options for searching for plugins by category, keywords, or plugin features. However, you will probably use the keyword search in the top right corner the most.

WordPress Plugin Repository – How to Install a Plugin?
Once you have found a suitable plugin you want to install, click on the "Install" button and then "Activate". The plugin will be installed and available in the administrative interface of your website. Plugins integrate into the left-hand menu in two ways. One category of plugins creates its own, separate menu item, while the other category integrates into the settings or tools items. Usually, smaller and less demanding plugins use the second option, while plugins that have a large impact on the system have a separate menu item.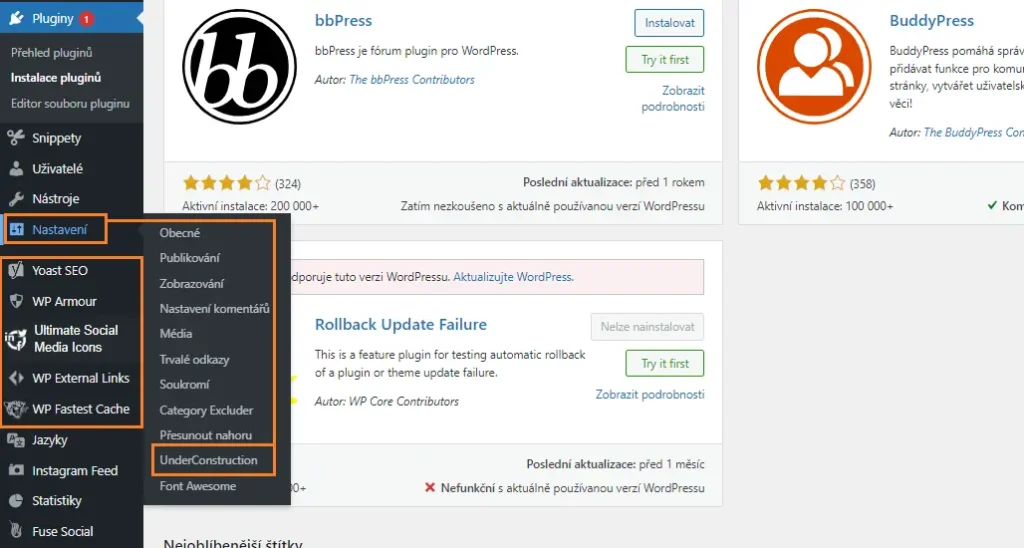 What to do if a WordPress plugin isn't working?
Sometimes a plugin you've installed might not work as expected. If this happens, it's best to deactivate and uninstall the plugin. If you're still experiencing issues, you may need to contact the plugin developer or look for alternative solutions. There can be many reasons why a plugin isn't working, such as an incorrect PHP version, server settings that don't meet the plugin's requirements, or an incompatible version of WordPress core or theme.
What are the benefits of using the WordPress plugin repository?
Plugins allow you to extend the functionality of your website without needing programming knowledge. You can easily add a contact form, image gallery, social media buttons, and much more. Plugins can also help optimize your website for search engines and improve its performance. You can adjust meta descriptions for your website and articles, check the quality of content, or even integrate with Google Search Console.
Using the WordPress plugin repository can be a great way to customize your website to your needs or your users' needs. You can find plugins that help you create your own layout, add new features, and even improve the security of your website. A huge advantage is also in updates. Thanks to the direct connection of your website to the repository on WordPress.org, you're regularly and promptly informed about new versions of the plugin you're using. This allows you to greatly influence the security of your website if you perform system and plugin updates regularly and on time.
Conclusion
Now you have a rough idea of what the plugin directory is, how to find and install plugins, and what to do if a plugin isn't working. Keep in mind that each plugin has its own specifications, and some may only be compatible with certain versions of WordPress, PHP, or server settings. Therefore, it's important to always read the plugin description and verify its compatibility with your website and settings. A good tip is to always choose plugins that are updated regularly and carefully taken care of by the author. This can save you a lot of trouble in the future.
More content about WordPress
Whole category is here
Je mi líto, že pro Vás nebyl článek užitečný.
Jak mohu vylepšit článek?
Řekněte mi, jak jej mohu zlepšit.