Do you need to deactivate the lazy load feature in WordPress? WordPress typically uses this feature to delay the loading of images until the page needs to display them on the user's screen. In theory, this can improve the initial loading speed of the page, but this feature is not always desirable. Therefore, today I will show you, how to turn off lazy load in WordPress, step by step.
What is Lazy Load?
The concept of lazy loading involves loading content only when it is needed. This means that images and other media are loaded only after the user reaches the area of the page where they are located. This speeds up the loading time of the page and saves bandwidth.

In WordPress, this feature is available in the core from version 5.5 and can also be implemented using plugins or specialized functions. In addition to speeding up page loading, lazy loading also helps reduce the number of requests that the website loads, thereby improving overall website performance.
How to check if WordPress is actually using lazy load for images?
It can be determined from the page source code. If you right-click on your page in the browser and choose "view source code", you can find the inserted image in the source code. The HTML tag will have the attribute loading="lazy". See the image below for reference.
How to turn off lazy load in WordPress using code.
Lazy load can be easily disabled using PHP code, which you can insert into the functions.php file of your theme. The code is provided below. However, please note that improperly inserted code can break your website. Therefore, always make a backup of the functions.php file or at least its code.
The code to disable lazy load looks like this:

				
					add_filter( 'wp_lazy_loading_enabled', '__return_false' );
				
			
To make the whole process truly secure, we will not directly modify the source code of the theme, but instead use a plugin for inserting so-called "snippets".
What is the snippet?
A snippet in WordPress is a short code that can be inserted into the functions.php file, page templates, or special plugins. These codes are used to modify the behavior and appearance of a website and can be used for various purposes, such as adding a new widget or changing the display of posts.
To install and activate the "Code Snippets" plugin, first go to the "Plugins" option in the left-hand menu of your WordPress dashboard and then click on "Add New". Search for the "Code Snippets" plugin, install it, and activate it. Once the plugin is activated, a new option called "Snippets" will appear in the left-hand menu. In this section, you can add a new snippet by following the instructions shown in the image, save it, and activate it.
You can find the plugin's standalone page here: Code Snippet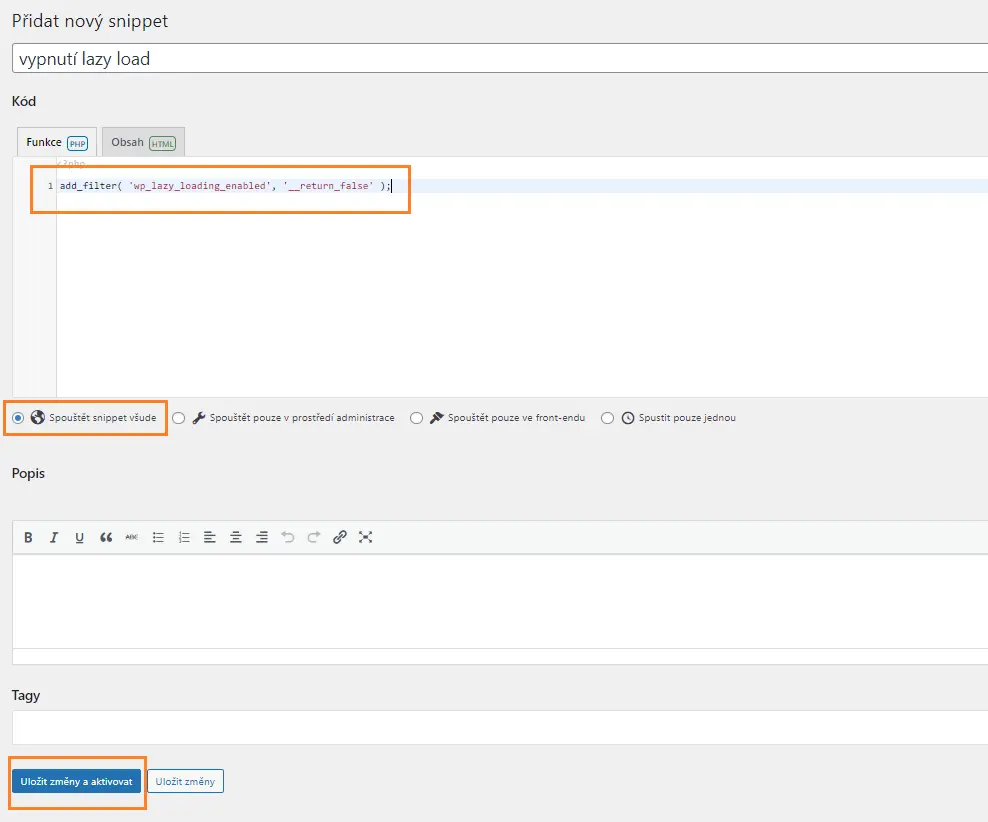 Once you insert the code into your website as a "snippet," the lazy load feature will be deactivated. And that's a very safe way to do it.
Conclusion
Using "snippets" is a safe way to add additional features to your website's source code. The main advantage is that your custom code won't disappear from the template files in case of a theme update or file overwrite. So its allowing you to make modifications quickly without risking a website crash or breakdown. As I demonstrated today, disabling lazy load images in WordPress can be easily done through "snippets".
More content about WordPress
Whole category is here
Je mi líto, že pro Vás nebyl článek užitečný.
Jak mohu vylepšit článek?
Řekněte mi, jak jej mohu zlepšit.