If you have ever wanted to change your username in the WordPress administration, you have probably also discovered that WordPress does not allow this change. If you edit your own or someone else's user profile in the admin panel, this option is disabled. However, there is a relatively simple way to achieve this change by modifying the MySQL database. So let's take a look at how to change a username in WordPress.

All you need is the phpMyAdmin interface and access to your database, which your web hosting provider should provide you with.
How to change a username in WordPress
Let's take a look at how to make this modification in MySQL. The first step is to log in to the database management interface. Practically every web hosting provider has this tool available, accessible through a web browser. Once you have entered the login and password for your database, you will log in to the interface where you will see the content of the database and all its tables. You will be interested in the table xx_users (xx is the prefix, which may differ depending on what text value was chosen during installation – by default, WordPress uses the prefix wp_).
In the left-hand menu of tables, click on the users table. This table contains all the users created in your WordPress installation and also collects all the information about these users. In the list of users, find yours and look for the user_login column when changing the username. For your user, simply click on the login value and overwrite it with the new username. Once you save the new value, the username will be changed, and the process will be completed. You can then log in to WordPress under your new username.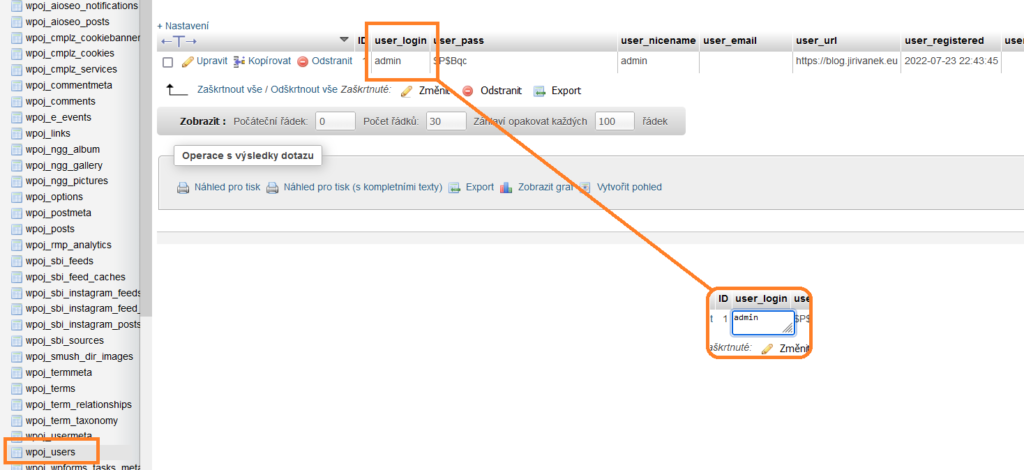 More content about WordPress
Whole category is here
Je mi líto, že pro Vás nebyl článek užitečný.
Jak mohu vylepšit článek?
Řekněte mi, jak jej mohu zlepšit.