Did you install the PrestaShop and you are unable to log in to PrestaShop administration? After installing PrestaShop on a webserver where the PHP version is lower than 7.4, you may have a problem with logging into administration (backend).
After entering the login (email address) and password, PrestaShop will remain in the log screen position, where the data entry field will only disappear.
Unable to log in to PrestaShop administration
How can I solve the problem:
Contact your webhosting provider and ask him to set up a higher version of PHP. For example, version 7.4. Once the new php version is applied to the web, you should log into PrestaShop without any problem at all. In addition, many shared web hosting providers allow you to change the PHP version from administration of their servicies, or from the control panel of web hosting. So changing the version PHP is relatively simple, and it's possible to go back to the last PHP version.
How do I find out the current PHP version?
You can use the FTP client to log into your FTP, and you can upload a script with phpinfo() function to the web folder. This feature can show you the list with PHP version and parameters used by the site. So you can create a file, named info.php first and put this code in it. Then you can upload it on FTP.
(https://www.php.net/manual/en/function.phpinfo.php):
<?php
// Show all information, defaults to INFO_ALL
phpinfo();
?>
After it type the URL into your browser:  yourdomain.tld/info.php (use your own domain name, of course).
PrestaShop compatibility with individual versions of PHP:
In the table below, you can check what versions of PrestaShop are compatible with which versions of PHP. According to this table, you can contact your webhosting provider for PHP version change.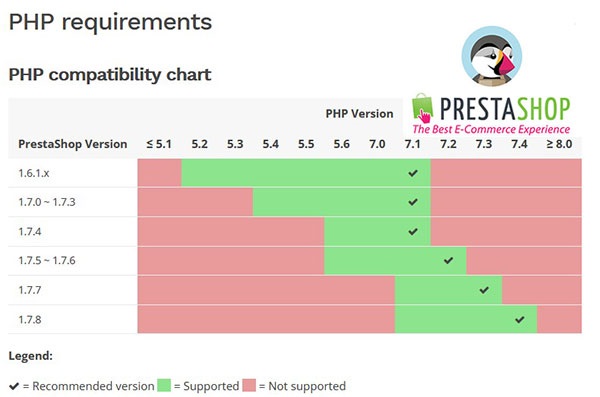 Je mi líto, že pro Vás nebyl článek užitečný.
Jak mohu vylepšit článek?
Řekněte mi, jak jej mohu zlepšit.